As more and more companies shift resources to virtual events, we have compiled concepts and activities for making a successful virtual event for your business.
The concepts and suggested activities work best when translated into a broader digital marketing strategy, but you will get a better sense of the impact of virtual event marketing on your business. The five event busines model types are a determining factor to decide which is the best marketing strategy for the event. An event can be open to anyone with or without registrations; it can also be closed with access to only selected members; and lastly these can also be free, paid, or sponsored.
| | | |
| --- | --- | --- |
| Event Access? | Event Registration? | Event Business Model? |
| Open | No | Free (Ads and Sponsorship) |
| Open | Yes | Paid (Tickets) |
| Closed | Yes | Free (Ads and Sponsorship) |
| Closed | Yes | Paid (Tickets) |
| Closed | No | Free (Sponsorship) |
Event Access and Business Models
Independent of the access type and busines model, digital marketers should incorporate strategies to raise general awareness for events, link this directly to registration pages and landing pages, and keep up to date with competition and industry trends in virtual event marketing. One of the biggest tools at the events disposal are social media stories which can tease upcoming events and include content from other events and link these stories directly to the registration page for more event information.
If you have video marketing that shows your user's footage of your last event, it is an excellent material for virtual event ads. Ideally, this content should be redesigned for future events or to create a highlight reel of your virtual events.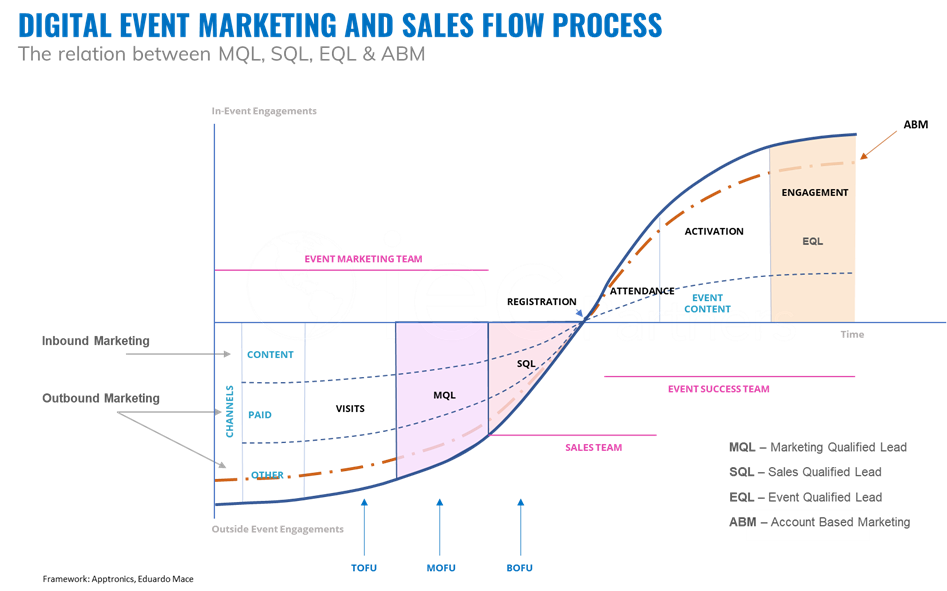 Marketing a virtual event is quite different from marketing a physical event, which means you need to make sure your marketing plan is up to date and that there is general alignment between the marketing of the event and the buyer's journey, so you can get event funnel moving as in the graph above.
The first thing your event marketing team should do when promoting virtual events is to think through the right marketing strategy for the event itself and your media marketing plans. Find the right channels to promote your virtual event and experiment with them until you find what works. Your media and marketing planning will need a facelift when you switch your promotions from live events to virtual events. Below is a summary of the modern digital marketing functions: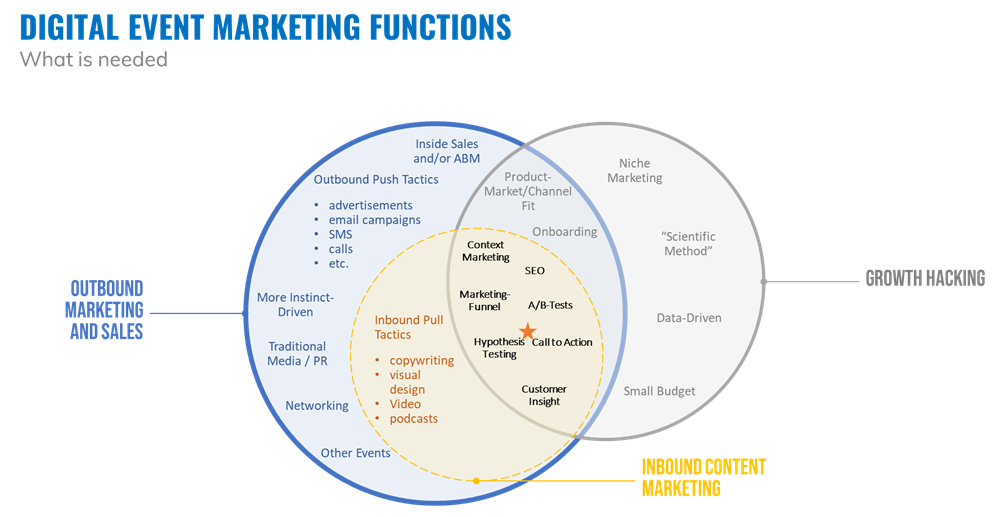 Several channels can reach interested leads, both inbound or outbound, paid or organic, such as Instagram, Twitter, LinkedIn, email, or other more traditional channels. You can use email marketing to guide attendees to your virtual events, inform them about the event, increase registration, increase demand for your event, and finally connect with your leads through feedback surveys. If you are using a virtual event platform, we recommend explaining how your virtual event works by using the channels you used to announce a physical event. Once you have announced your virtual event, you can announce it on your website, Facebook, and Twitter.
With the right data at your disposal, you can create an event based on analysis, not on guesses about your event. You can gain deep insights from your virtual event perspectives and existing customers to increase ROI and help you achieve your marketing goals.
Some aspects of virtual event promotion include paid media, but it is creating high-quality promotional material designed to inspire and transform interested parties into participants that a virtual event shines through.
The heart of your virtual event promotion must be a user-friendly website and registration landing page where attendees can get informed and register to participate.
By planning your virtual events as early as possible, experimenting with your audience preferences, getting to know their journeys, and the marketing tools and channels, you can expand your reach to a new and larger audience.
By measuring your virtual events like an in-person event, your prospects can be treated as marketing-qualified leads, sales qualified leads and even event qualified leads. Marketers can use this data to drive more personalization to ensure that your brand delivers exactly what your target audience wants and needs.